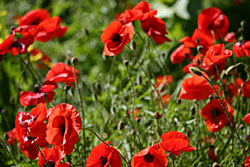 An international symbol of wartime sacrifice that is planted for its beauty and remembrance. This small, but brilliant poppy is called the Flanders Poppy. During World War I (1914 – 1918), the battlefields in Flanders, Belgium were so compacted and devastated by the war, that the wild red poppies stopped growing. After the war was over, the fields began to bloom again. The flower was immortalized by Lieutenant Colonel John McCrea – a Canadian soldier and physician. His poem, "In Flanders Fields", spoke of them as reminders of those who had lost their lives in war fighting for a cause that must be taken up by future generations. Scatter them in early spring for your own personal memorial, at the gravesite, and simply enjoy them for their glorious beauty and the memories of a beloved Veteran.
With the gracious and enthusiastic collaboration of the Curtis Jones Family of their Botanical Interests company, each Military, Civil Service casket and the Cross will be accommodated by three packets of Flanders Poppy seeds.
In Flanders Fields
By Lieutenant Colonel John McCrae, May 1915
IN FLANDERS FIELDS the poppies blow
Between the crosses row on row,
That mark our place; and in the sky
The larks, still bravely singing, fly
Scarce heard amid the guns below.
We are the Dead. Short days ago
We lived, felt dawn, saw sunset glow,
Loved and were loved, and now we lie
In Flanders fields.
Take up our quarrel with the foe:
To you from failing hands we throw
The torch; be yours to hold it high.
If ye break faith with us who die
We shall not sleep, though poppies grow
In Flanders fields.