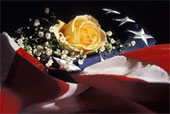 Statement of worth or value by a respected source.
Testimonials provide credibility, and are often used to certify the value of a particular product, or an endorsement which consists of a written or spoken statement extolling the virtue of a product.

"A veteran is someone who, at one point in his life, wrote a blank check
Made Payable to 'The United States of America'
for an amount of 'up to and including my life.'
That is Honor".

"A funeral for a Veteran is to be a
tribute to the way he lived his life".
John "Duke" Wayne

Hi… this is Nicole Martell..I just wanted to express my sincere appreciation for your help and for the absolutely amazing casket you sent for my father. You made sure that every question I had was fully answered and you went above and beyond to explain any extra details I may have needed to know. All of those little extra things came in really handy…especially when the funeral home tried to rush us on the arrangements..it was if I had you over my shoulder saying "now Nicole don't let them rush you". It meant alot during this crazy time for me that you did not act like a business man that was just trying to make a sale. You really seemed to care about what we were going through and it meant so much. As for the casket, it took my breath away. It was even more beautiful in person then it was online..and the accesories were perfect as well. I was so happy with how everything looked, that it made it hard for me to even cry at something so beautiful. My father would have been so pleased and I know that we went above and beyond what he would have even imagined. I would love to recommend you in any way possible so if you would like to give my email out to anyone please feel free to do so. We also took a picture just because of how in awe we all were so if you would like to see the picture I'd be happy to forward that to you. Again, I just want to say thank you for making the hardest day of my life a little bit easier for me.
Thank you,
Nicole Martell

Hello sir:
I have visited your website and saw all the wonderful caskets you have for military and civil service members. I am emailing on behalf of the Funeral Home in Chicago, Illinois, and for my Father who has served in the Navy in the Korean War. He is at home with hospice care and we were recently told it could be as soon as a few weeks until he leaves us and goes onto his eternal rest.  Please be free to contact me at your earliest opportunity. 
Thank you and God Bless, Cheryl Williamson

Son of Brigadier General Arthur D. Munro:
"Your casket was just gorgeous.
The detail in your design and manufacturing is of the higest quality.
Your caring for our family at the time of our loss was genuine and heartfelt.
If your company was trying to achieve excellence,
your mission is accomplished, for sure."
Bob Munro

The funeral in Arlington in January was a very moving tribute to my father.The elegant casket you provided was a dignifying highlight of the ceremony.
Bob Munro

"I am MGySgt Burlington and have served our country and the Marine Corps for almost 28 years, and will finish at 30 years in 2011. I discovered your website and I am interested in your Class A" Marine Casket.. I think this is an awesome tribute to my fellow Marines who serve and have served our country! I would not trade one day that I have spent a United States Marine in the service and defending of our great country!!! I am grateful for what you are doing.
MGySgt Burlington, Brian F.
Camp Lejuene, NC

All I can say is "wow."  I've never seen such impressive and beautifully crafted works of art such yours!
As a Marine Corps Veteran, I now know exactly how I'd like to be laid to rest.. I cannot think of a more lasting tribute to Veterans than your caskets. I am very impressed with your attention to detail and how you obviously know what is important to us with the flag bag, sword, flags, and medal displays.Truely remarkable!!
I'm still pretty young, so I hope you're still in business when my time comes!!
Thank you.
Cpl. Robert Hetrick
USMC

Sir, Louis S. from Honolulu,
I would like to know if it is legal to order through you in mention to your collection. I came upon your website and was truly thankful for what you have. The Veterans here are so much neglected in their burials. They just pack them up and do it so fast and the funeral homes don't really know how it should be done to a person departed that served their country. And so I was looking through your collection and found it Honoring and superb toward what you have done.
I an a Ex-Navy Riverine Patrol Forces (PBR), boat Mekong Delta Veteran. UDT/Seal, Special/Ops also, (66-70 Era).
I have numer awards and have always wondered why people are rushy and not truly honorable to many deceased Veterans that have passed on. Many have so much lack of respect toward them at their final going home that it really shows how much they are honored.
My Dad was ex-3rd Army Patton, and in Europe WWII. I am Vietnam material that now has just gone 60 years old. I would like to Honor you for your Honoring thought toward the Veterans of the United States of America. I would really like to see those departed Honored like you have done for them and is very well needed through the world today, especially to the Veterans.
I live in the State of Hawaii, the city of Honolulu.
Thank you very much for all you have done,
A fellow Veteran …………..Louis S.

"… thanks for such a touching tribute to the Veterans of the USA. These caskets are by far the most remarkable thing that I have ever seen. I had planned to purchase another type, but since seeing your selection, have decided to change my mind."
Alvin Gainey
U.S. Army Veteran

I came across your website today and was amazed at the content. In fact, I spent most of the morning looking at your webpage and all the links. I have saved your site to my favorites and will use it often both in my role as Director of the  State Veterans Cemetery as well as privately with my friends and family. Please accept my appreciation for your service to veterans who serve this great country of ours. God Bless you and God Bless America.
Mitch S
Director
State Veterans Cemetery

I saw your website and forwarded it to my husband who is a Vietnam War Veteran.  He was quite moved by it.
Phyllis

What an incredible and fitting tribute of honor. These are absolutely stunning! I can only imagine what  this must mean to the families who are able to give this final salute. Very tastefully and reverently done!
Thanks for sharing your site as I have passed it along to those who I know would appreciate knowing about it.
Debbie

I was planning on being cremated, but after having seen your Air Force casket, I now want to be buried in one, and thank you for what you do for us Veterans".

Byron 'BB' Bartlett
Tail Gunner, B-17, WWII, USAAF

I enjoyed your website very much.  My foremost thought was, "What a tribute to those who have served this country so well."  W——– is honored to be a small part of this process.
Best regards,
Joyce

You have given me great comfort, knowing that as my husband of fifty four years and I are to be buried at Arlington Cemetery together, that I may rest beside him in a casket that represents my love for him and respect for 'our' service to this great country, and which reflects our 'service' to each other. Each and every day of his over 30 years in the Army I stood beside him and feel as an ArmyWife that I was as much 'in' the Army as he was.Therefore, what you have given us best represents 'our' career and life together. You are deserving of a 'special' Thank You from both of us.  
Margaret W. Kauffman

I want you to know that these are the most beautiful caskets that I have ever seen, and I mean it.
Dale Gresham
Caskets and Stones

"Absolutely beautiful work. A great memorial to someone who gave so much so I can live the life I do."
Dr. Joseph L. Bauer

Where to begin … What to say …
Your kindness and sympathy at this time are more
appreciated than any words can express.
Thank you for your compassion and generosity.
Thank you for the beautiful flowers you sent
to honor the memory of Joe.
Your help and kindness through this journey ment
the world to me.
The casket was beautiful and honored Joe and his service.
There were tons of compliments on it.
Your thoughtfulness during this difficult time
is greatly appreciated.
Sincerely yours,
Tracy Blackburn
and the entire family of  Marine Joe Blackburn
P.S. Semper Fi

"I really wanted a commemorative Officers casket for my Father, and you provided exactly that. He was quite pleased to choose his casket before he passed. A warm thank you from Dad, and a big hug from Mom and myself".

Beth Timmons

Seeing that casket with the same lining as the uniform gave me goosebumps. Awesome work!.
Ber

Glad to hear there are still a few good men out there who are willing to do everything they can to give these men and women the respect and honor they deserve. My father has a rough estimate of 6-7 books if that is at all possible. Let me know the cost of each one and we can go from there.
Thank you again,
Marcus Hashagen

I wanted to send you and Ms. Chapin an email and thank you both so very much for the services you provided for my brother Danny's funeral. When we ordered the Marine Corps Casket for Danny there was no way we could have expected the exceptional service and quality we would receive. The detail put into the casket and all the accompanying items in the Internal Box helped us provide a fitting tribute to Danny's service to our country and the Marine Corps. As he joined his fellow Marines guarding the streets of heaven I know he looked down and smiled at the way his body was laid to rest. Thank You again and may God Bless and keep you in his care.
Johnny Hubson
Master Chief Petty Officer, United States Navy, Retired

Gods Sweetest Blessings on you both.
Our Family AND our extended families appreciate your incredible, thoughtful service to our requests-fast delivery-to
Michigan-as well as so many details…we'll never forget this…Thank You for thinking of my Veteran Husband
Rey & me in such a thoughtful way.